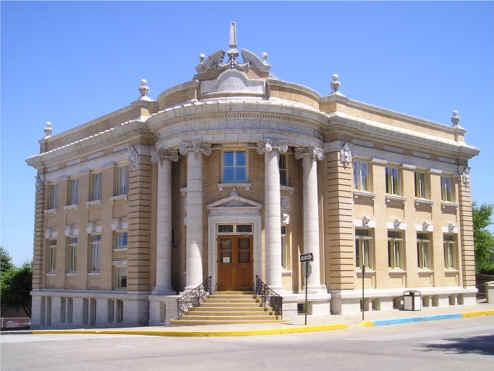 This is the Hannibal library.
Hi mom, dad and everyone,
I got to Des Moines, Iowa ok last Wednesday and then the next day we had our first transfer meeting in Iowa City and I met my new companion, Sister Despain from Gilbert, Arizona (been on her mission for 4 months now, and we got sent to a new area called Hannibal Missouri. There is a branch there with mostly less Active members, so we are focusing on re-activating people for the first little while and getting to know everyone. We have a car, GPS and a brand new cell phone, so we are surviving well even though we have no idea where we are at most of the time. the Hannibal branch is in the Nauvoo Stake and we had Stake conference Saturday night in the Church building across the street from the Nauvoo temple. It was really dark already so I couldn't really see the rest of the town or area very well. We went to a custard place called Annie's and had lemon custard with Raspberry sauce on it. It was AMAZING. Hope I can get to go there during the day sometime so I can actually see it. It is right next to the Mississippi River and so is Hannibal. Hannibal is the town Mark Twain wrote Huckleberry fin about and the Caves in the book are here in town somewhere, but I heard that they are really expensive to go into, so I might not get to. We have met several really nice people in the branch and we have a set of elders, Elder Ashworth and Elder Younger. They are really hard working and nice elders to work with.
We are living in an apartment that belonged to elders for more than a decade, so it's kind of dirty and run down. We have been doing our best to clean it up.
My new address is for my apartment in Hannibal for the next several months is, if you send it there it will only take 3 days to get to me instead of a few weeks I think. Also the mission home asked that if you send missionaries any packages to the mission home in Des Moines or my house that you send it Priority mail only. I don't know the reason, but priority only please :) I can't wait to have more to say to everyone. I am in good health and doing ok. Thanks for the emails and letters and prayers!
Pictures!!